The 11-acre island known as Indian Key was the scene of two of the bloodiest massacres in Florida History. Visiting the island today (from Indian Key Fill) all you will find is a dock, a trail, a few ruins, and lots of tropical foliage. Today the island is maintained by the Florida State Division of Recreation and Parks. A dock juts out from the island where you can park a boat if you want to visit this historic site.
Dr. Henry Perrine was a horticulturalist from Palmyra, N.Y. who ended up on Indian Key with his wife and their three children in the fall of 1838. Indian Key was not his first choice, however. At this time, the Second Seminole War was raging throughout the state. Perrine wanted to move to Cape Sable, where he was given 24,000 acres to develop tropical plants that could be used for food and medicine. The government did not feel that it was safe for Perrine to conduct his experiment on Cape Sable. He was temporarily sent to Indian Key where he could be protected by a military squadron stationed at a U.S. Navy depot at Tea Table Key which was about a mile from Indian Key.
As mentioned in an earlier post, Indian Key was under the control of Jacob Housman whose rule was coming to an end due to Housman's shady dealings. His captain's license was revoked, and the War had ended his lucrative Indian Trade.
Houseman was a nasty man who loved to torment the Indians. He even went so far as to write a letter to the government volunteering to kill or capture Indians in South Florida for $200 per head.
When Chekika, chief of a Seminole tribe, learned about Housman's plans, he was not thrilled. Chekika had been successful in resisting all attempts at getting along with the white settlers, and was ready for revenge. He swore that he would not only kill Housman, but he would raid Housman's warehouse which was filled with guns and ammunition.
Chekika knew he would need to plan his attack carefully because of the Navy squadron at Tea Table Key. His time came in early August 1840 when Indian scouts discovered that two of the Navy's largest ships were gone and the camp was manned by only 6 men. Chekika then gathered 70 of his followers who traveled in 17 canoes where they hid in the mangroves near Lower Matecumbe Key, a short distance from their target.
On August 7, 1840, Chekika and his band of warriors paddled toward Indian Key. In these early morning hours, most residents of the island were sleeping soundly in their homes. James Glass was a ship's carpenter who was not able to sleep that night. He was sitting on his front porch when he noticed the empty canoes on the beach. The Indians were already on their way to find Housman.
After retrieving his shotgun, Glass was walking towards his neighbor's house, when he was attacked by an Indian with a knife. He fired his gun and the battle had begun.
The Indians made a bee line to Housman, knocking down his front door while he and his wife ran out the back door. The couple managed to find a boat on the beach and rowed safely to Tea Table Key where they boarded a schooner that was moored in the area.
The Indians were not happy that they had missed their chance with Housman. They looted his house and set it on fire.
In the meantime, Dr. Perrine and his family were hiding in their home. His wife and three children went down to the cellar which led to a wharf where they hid in neck deep water. Meanwhile, Dr. Perrine thought he could reason with the Indians. He spoke to the Indians in Spanish, and convinced that he was not an American; they retreated for the time being.
The Perrine's reprieve did not last long, however. The Indians were drunk on Housman's run and were out for blood. They broke into Perrine's home, smashing furniture, searching for the doctor and his family. Dr. Perrine tried to protect himself with a rifle, but it was out of ammunition, so he was pretty much defenseless.
Down in the cellar, his family listened in dismay as the Indians killed their father. They remained huddled together through the night listening as the Indians filled their canoes with supplies. Suddenly, they heard gunfire and thought that the Navy was on its way, which was true, to a certain extent.
The crew at Tea Table Key heard all the commotion coming from Indian Key, so they sailed over to the key to see what was going on. When they arrived at Indian Key, they were preparing their guns to confront the Indians. Unfortunately, the guns were loaded with too much gunpowder, and, when they were fired, they recoiled and the boats were overturned, throwing the crew in the water. The Indians watched this debacle from the shoreline, and set the Perrine's house on fire.
The family was still in the cellar and were being overcome with the smoke as the house continued to burn. Young Henry saw an opening in the pilings and managed to squeeze through to reach the end of the wharf where he jumped into the ocean.
When Mrs. Perrine and her older children tried to follow Henry's lead, they were thwarted because they were all too large to fit through the opening. After managing to move one piling, the family was able to escape, just in time to watch the wharf plunge into the ocean.
Henry was reunited with his mother and his sisters and they were able to find a canoe which they paddled over to the schooner escaping the burning island and the angry Indians. From the schooner's deck, the survivors of the massacre watch their town burn to the ground killing all 18 residents who were unable to escape.
The Perrines returned to Indian Key to search for their father's remains but they were unsuccessful. They ended up settling in South Florida where some of the family's descendants still live (more about that in the next post).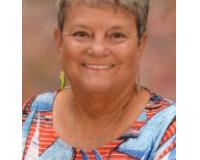 Ellie has returned to real estate sales after spending the last 40 years teaching English at Florida SouthWestern State College in Fort Myers She has teamed up with her husband, Bob, who has been a....